Diwali is not just a festival but an emotion for Indians, irrespective of their culture. Lights, laughter, and the sugar rush induced by Kaju Katli give a high that the makers of Euphoria could never achieve!
As people mark the victory of light over darkness, they light up every corner of their house with little diyas, seeking prosperity and good fortune. While some enjoy the unmusical firecracker booms, others find peace in offering prayers to Goddess Laxmi.
With the pandemic subsiding, this festival will be celebrated with more zest! If you were to see the picture of India from space during Diwali, you'd be amazed to see that the country looks like a constellation.
Diwali, the Hindu Festival of Lights, starts today. #HappyDiwali to everyone! #VITAmission pic.twitter.com/Uygnc8tTWx

— Paolo Nespoli (@astro_paolo) October 19, 2017
As individuals gear up to celebrate Diwali 2022 with exuberance, we've scoured through India's mythology, history, science, and geography to render some amazing facts about the joy of unity in diversity amidst the festivities.
Why is Diwali Celebrated?
Ironically, Indians do not need a reason to celebrate, but no festival is celebrated without a purpose. Have you ever wondered why Diwali is celebrated for five days?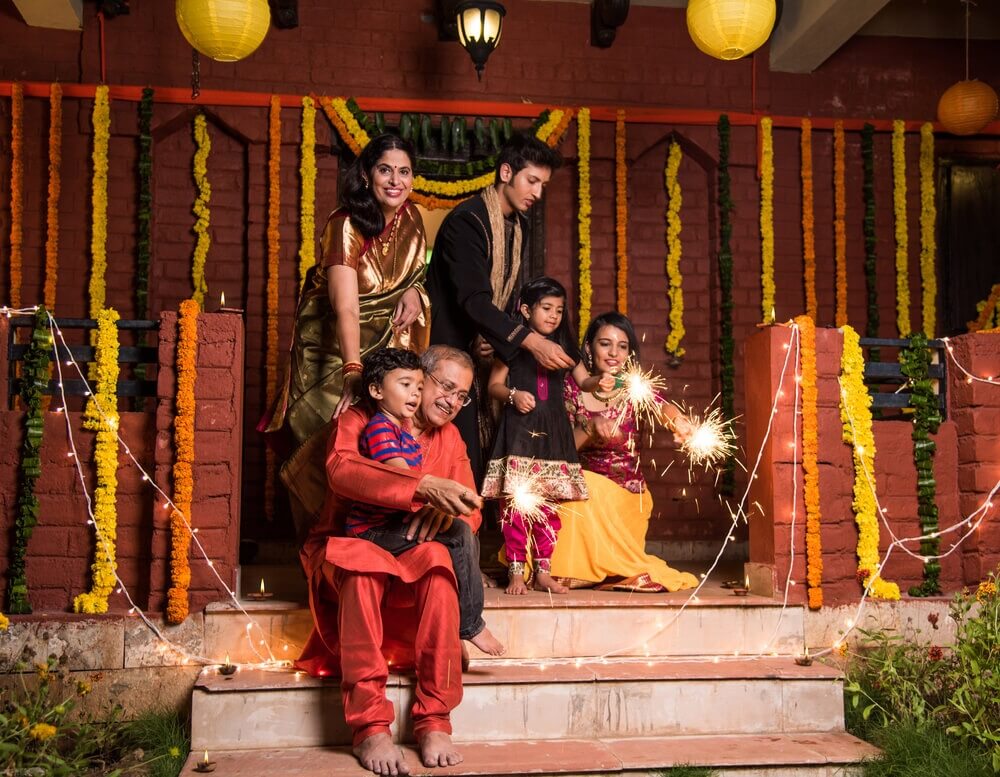 The Mythological and Scientific Reason
As per holy texts, it marks the return of Lord Rama to Ayodhya from his 14 years of Vanvas. The people of Ayodhya lit the city with bright lamps of ghee and celebrated his arrival of their king with a lot of joy.
While it has important historic and cultural significance, scientific reasons prevail. Diwali falls on the thirteenth day in the month of Karthika according to the lunar cycle, known as Trayodashi. Traditionally, the science states that on this day everybody is supposed to worship Dhanavantari, the deity dedicated to one's health and well-being. However, in today's world Dhanavantari has become synonymous with a doctor. Dhanavantari or the deity Dhanavantari is supposed to be the source of Ayurveda; the science of long and healthy lives.
Primarily, the advent of Diwali marks the beginning of winter. The time when certain things and ways of living start to change. From the time you wake up to the things you eat and wear, technically, your lifestyle changes. So, the science behind this is how one should behave to pass through the winter months without getting sick or losing your sense of balance and purpose in life. Hence, lighting lamps and bursting crackers was one of those things to lighten the mind and lift the spirits of people so that they don't slip into a sense of hibernation.
Resonance of the Elements Related to Diya
Every element of a diya has its own importance and significance. The oil used to fuel the fire represents the bad habits and wrong intentions of humans, like envy, greed, lust, and hate. The cotton wick used to deliver the fuel to the flame typifies the soul, or aatma, of us humans. Hence, the process of burning a diya implies that the diya burns and sheds light only when the oil is delivered through the wick. And seeking inspiration from a lit diya, we should also get rid of the bad habits (oil) by burning them out and cleansing our soul, which in turn will light up our life.
Ways of Worshipping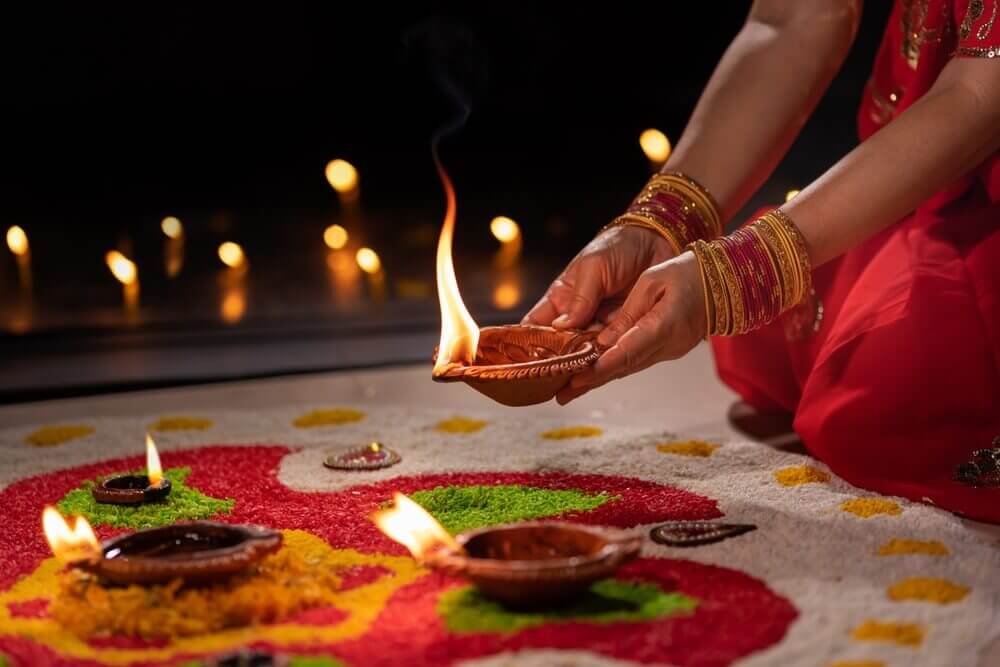 Diwali is one of the most popular festivals for Hindus, which signifies the triumph of good over evil. The celebrations begin with Dussehra, a festival where people enact Ramlila, a dramatic rendition of the Ramayana. The festival of lights is celebrated 20 days after Dussehra. This year the celebration will begin on October 22, 2022. Let's see what's special in different parts of India during this beautiful festival.
North India
People from the North visit the temple and offer their prayers to God. They also conduct Langars, and Bhandara to feed the poor and needy. People from North Indian states are enthusiastic from the beginning to the end of the Diwali season. In Uttar Pradesh, people gather in large numbers at the bank of the river Ganga, and the entire river is lit up with floating diyas. People of Himachal Pradesh and Delhi indulge in gambling on the night of Diwali as they believe it to be auspicious and a way of welcoming wealth.
South India
Diwali in South India is celebrated a bit differently. People decorate their homes with Kollams and lots of flowers. Another ritual that people from Karnataka, Andhra Pradesh, and Tamil Nadu follow is oil bathing, or Abhyanga Snan, on Diwali morning before sunrise. They also narrate King Bali's stories and pray to idols made of cow dung and clay.
East India
People from East India celebrate Diwali by lighting diyas and lamps, keeping their house doors open to welcome the goddess Laxmi. They believe that the goddess of wealth does not enter dark houses, hence their houses are lit brightly. People from Bengal conduct Kali Puja and offer hibiscus flowers, meat, and fish to the goddess, whereas people from Odisha believe in worshipping their ancestors.
West India
The western part of India witnesses grand Diwali celebrations. People from Gujrat flock to the markets to buy gold and silver in bulk quantities. Rangolis are made in front of the houses with footprints facing inwards to welcome Goddess Laxmi. The Gujratis consider it auspicious and invest in properties.
Not just for Gujaratis, but investing in real estate can be lucky for all Indians with our premium listings available at great discounts this Diwali 2022.
Appetising Food to Light Up Your Mood!
India's being the land of diverse cultures clearly means that we have multiple food options to choose from. Each dish or sweet prepared during Diwali has its own significance in the culture or region it belongs to. Exactly like how the North Indian dosas aren't dosas but savoury pancakes.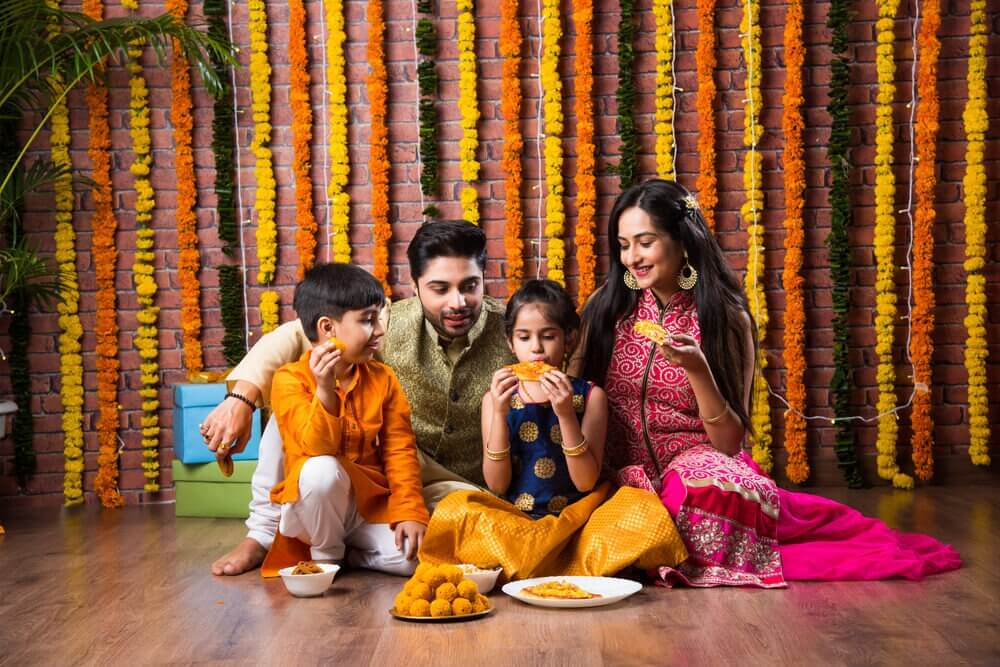 North India
Diwali in North India is synonymous with Kaju barfi, Imartis, Kalakand, and Balushahis loaded with ghee. And who doesn't add Gujias to their Diwali menu in India? In fact, people from the west also include Gujias with a slight variation called Karanjis. This is Gujia Supremacy in North India. Some of the other delicious dishes prepared during Diwali in the North are Khaja, which is famous in Bihar, Shagufta, a popular dish from Kashmir, and an irresistible sweet called Babroo from the land of Gods, Himachal Pradesh.
South India
What is even Diwali without the medical herbal drink, aka Legyam in the South? This is a must-have during Diwali as it helps digest all the sweets we are stuffed with and is also associated with Lord Brahma. Millets and South Sapad go hand in hand, and Diwali is no exception. Some of the famous millet-based treats during Diwali in South India include Thinai halwa and Varagarisi jalebi. Another famous South Indian dish during Diwali is Gavvallau, a sweet in the shape of gnocchi pasta.
East India
Popular Diwali dishes from the East are milk-based treats like Kheer kadam, but the Mihidana, made from besan, topped with nuts, cardamom, and saffron, is just as delicious. Everyone's favourite Diwali dessert in the east is Patishapta, filled with coconut and jaggery. In Bihar, Khaja, or layers of dough dipped in sugar syrup, is a must-have. All of India makes and serves sweets on the festive occasion of Diwali. On the contrary, we have West Bengal, where a savoury dish known as Chhodo Shaak is prepared using 14 different green leafy vegetables.
West India
The population in Western India is officially tagged as 'food lovers'. Milk sweets like Doodh Paak and Baasundi are famous for their rich taste not just in the West but across India. Other specialities of the western region include Shankarpali, Puran Poli, and, of course, Besan Ladoos. Anaras from Maharashtra, Mawa Kachoris from Rajasthan, and Chorafali from Gujrat are some of the famous Diwali dishes from the Western States of India.
Dressing During Diwali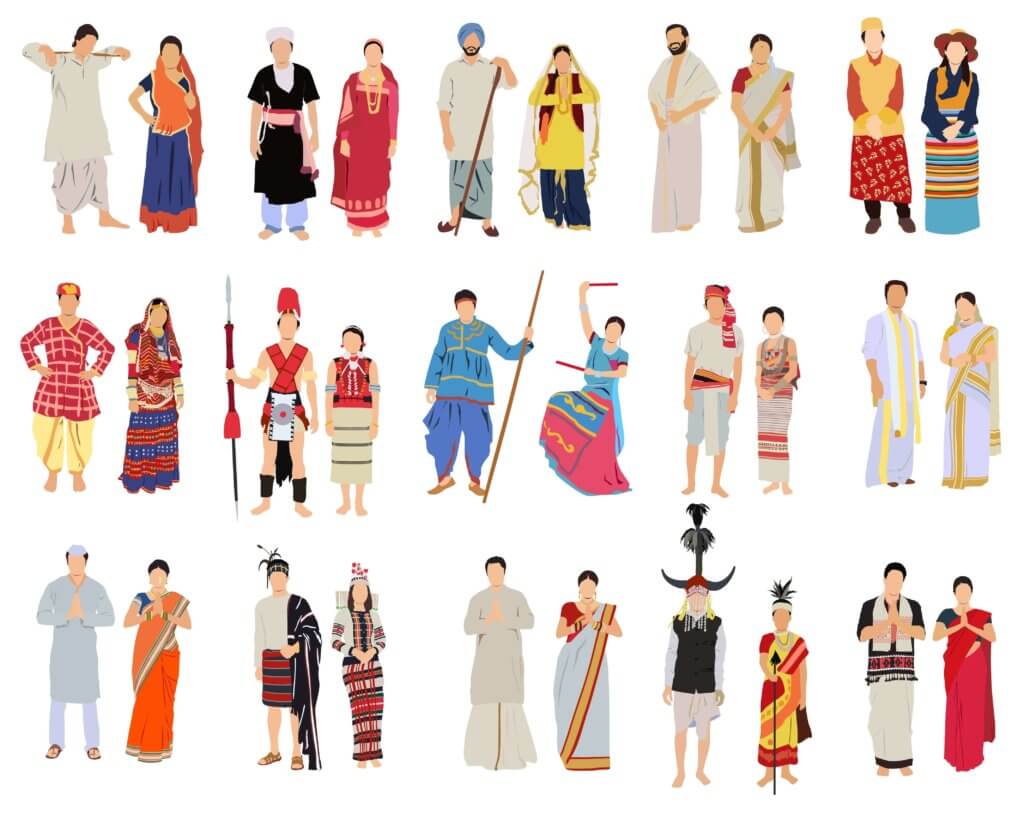 From heavily embroidered with thick border sarees in flashy colours in North India to Kanchipuram pure silk sarees in South India, women all across India dress to impress! In North India, men dress in modern designer kurtas and pants, while in South India, men stay true to their traditional outfit, a white veshty with a golden border and a simple white shirt.
Our Indian women of the west look best in their colourful chanya cholis with heavy mirror work, while our Indian women from the east keep it simple with a white saree with a red border and a bit of floral work on it. Whereas the men in the west complement their partners when it comes to dressing and wearing colourful chronos, the Indian men from the east just love their dhoti and kameez.
Dressing up around Diwali is never dull, and your closet wouldn't be complete without adding a new outfit. While it's a task for women to choose the right colour and pattern for the occasion, it isn't a cakewalk for men either. But unlike your hectic house-hunting problems, Square Yards will surely rescue you!
Diwali or Free Therapy Sessions?
This auspicious festival signifies the victory of light over darkness, knowledge over ignorance, good over evil, and hope over despair. The importance of lighting a diya is not limited to spreading light in a dark place but also implies shedding light on the lives of people who are in a dark place.
In today's world, celebrating festivals can help an individual in more ways than just getting blessed. A deeper and unpopular essence that the festival of light brings will open your eyes. It may even help you celebrate your everyday life like a festival. One thing that remains common across India is that Diwali starts with a deep cleaning of your house and ends with a deep cleaning of your mind, body, and soul.
As we declutter and discard the excess unwanted material from our home, our mind clears simultaneously and discards unwanted materialistic thoughts. Doing so pushes us to take a step towards our spiritual journey. Additionally, living in a neat and clean surrounding is therapeutic in itself.
Diwali begins at 4 am a.k.a Bhramamuhrat. Waking up at such an early hour of the day continuously for a week invokes a sense of moral discipline which is quite important for our personal and professional growth. It is also said that the fresh morning air helps in improving energy levels and boost our immune system.
The best part about Diwali is this festival unites us with our friends and family. Trust me meeting a friend or a relative after a long time and talking your heart out is no less than a free therapy session.
For those dealing with stress, anxiety, hectic schedules or staying away from loved ones, Diwali might just be your week-long free therapy session.
Decorate Your House as Per Vastu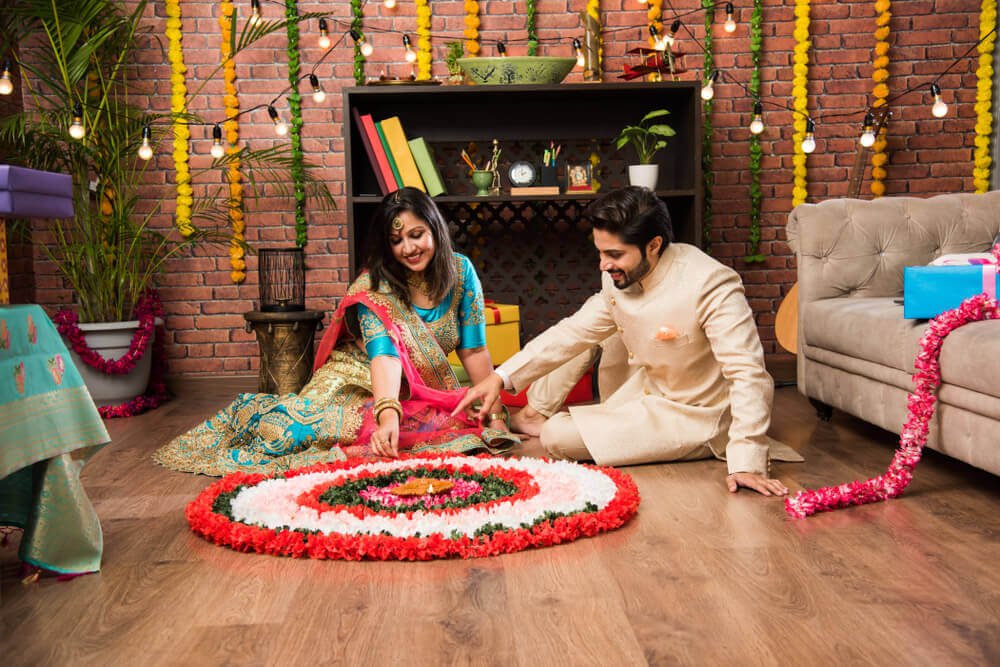 Even in a world full of fancy metallic diyas, we Indians still prefer the humble earthen diyas that emit the fragrance of Indian soil when burnt. Vastu experts say, we should only use diyas that are not cracked or chipped and must be soaked in water before being lit.
As per Vastu, the Akhand must be placed in the middle of the Vedi, or the place where you worship. Vedi is the area where you conduct all the rituals for Diwali puja. It can be in your puja room or any other room where you wish to do the Diwali puja.
Have you heard of the Akhand Diya? It is like that independent and responsible older sibling who gets to take advantage of all the perks but also keeps the family happy and going. The Akhand diya is also like the firstborn child as it is bigger in size. It is the biggest diya of all and the first one to be lit. If you didn't know, now you know!
Another Vastu tip popular amongst the masses is that small diyas must be placed in every corner of the house, including the bedroom, kitchen, living room, terrace, and even the bathrooms. Just like how the younger sibling runs around the house spreading their cheerfulness and joy the same way these small diya light up that area of the house they are placed in with their light and warmth.
The last and final tip is that diyas must be kept facing the north or northeast direction to attract prosperity and wealth. You can also place your Diwali diyas in the east direction for a sound body and good health.
If the diyas aren't bright enough, you can always seek some lighting ideas for your home from Square Yard's Interior Company. Can't assure you about the diya, but Inco can definitely help your house colours become lighter and lights become brighter.
Insights of Diwali 2022
I'm sure by now the Diwali feels are already kicking in, but it's time to get to business. Diwali is certainly an exciting time for people, but it is the most exciting for marketers and businessmen. From budding a fun sale campaign idea to seeing that campaign bring high sales is indeed exciting.
Nearly two months after two seasons of silent and blue festive celebrations, the Indian market is back on track. It is highly anticipated that the sales this Diwali will thrive like never before, but there is a little uncertainty due to the high inflation. This is likely to result in only value purchases by our smart Indian consumers this festive season of Diwali 2022.   
Diwali is the best time for anyone to make big investments like buying property, starting a new venture, or even marriage. It is not only the discounts that make it worth investing in but also the luck and positivity this season brings. If you are considering buying a house or property, do not miss out on the offers and discounts given by Square Yards. Head to our website and make your Diwali a little extra special this year.
While it is important and essential to dress up and make sure our diyas are placed in the right direction, let us not forget to be a little more kind towards everyone around us and our environment.
With the pandemic having run its course and life returning to normalcy, this Diwali can usher in a new sense of positivity and togetherness as a nation. Don't let the borders define you, because this Diwali, is India wali!